​​​​​​​
MY ROLE
| Research, Strategy, UX/UI Design, Branding
TEAM
| 
Sharon Byun,
Experience Design
Dennis Liu,
Experience Design
Marshal Turner,
Experience Design
TOOLKIT
| Figma, Adobe Illustrator, Adobe Photoshop
How do you get the startup community in Richmond, Virginia to rally around a platform, contribute and participate to help drive a thriving startup community?

The founders in Richmond region have access to capital and educational resources, but when they get to the point where they know what they need to do, they are having hard time finding talents to help doing it. Traditional talent acquisition platforms exist for traditional companies.
What if we modernize the platform so it's tailored toward the startup players?
Rally RVA
offers a digital platform that modernizes the talent acquisition process to make it more efficient for startups and more motivational for potential talent.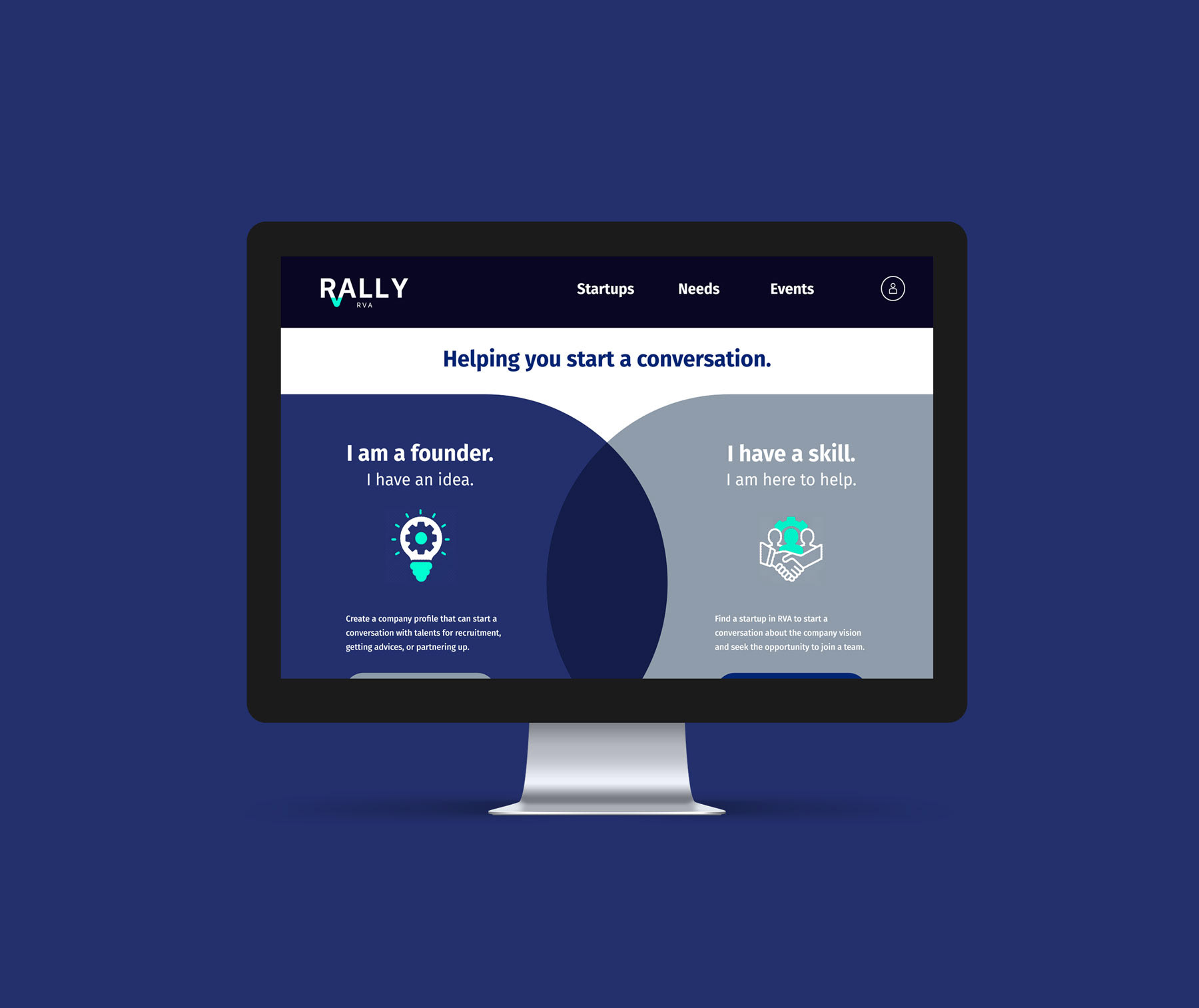 Allow founders to profile their startups and detail their needs, efficiently showcasing their vision, culture, and skills the talents can develop working at their company. It also serves a way for funders to see what is in the pipeline.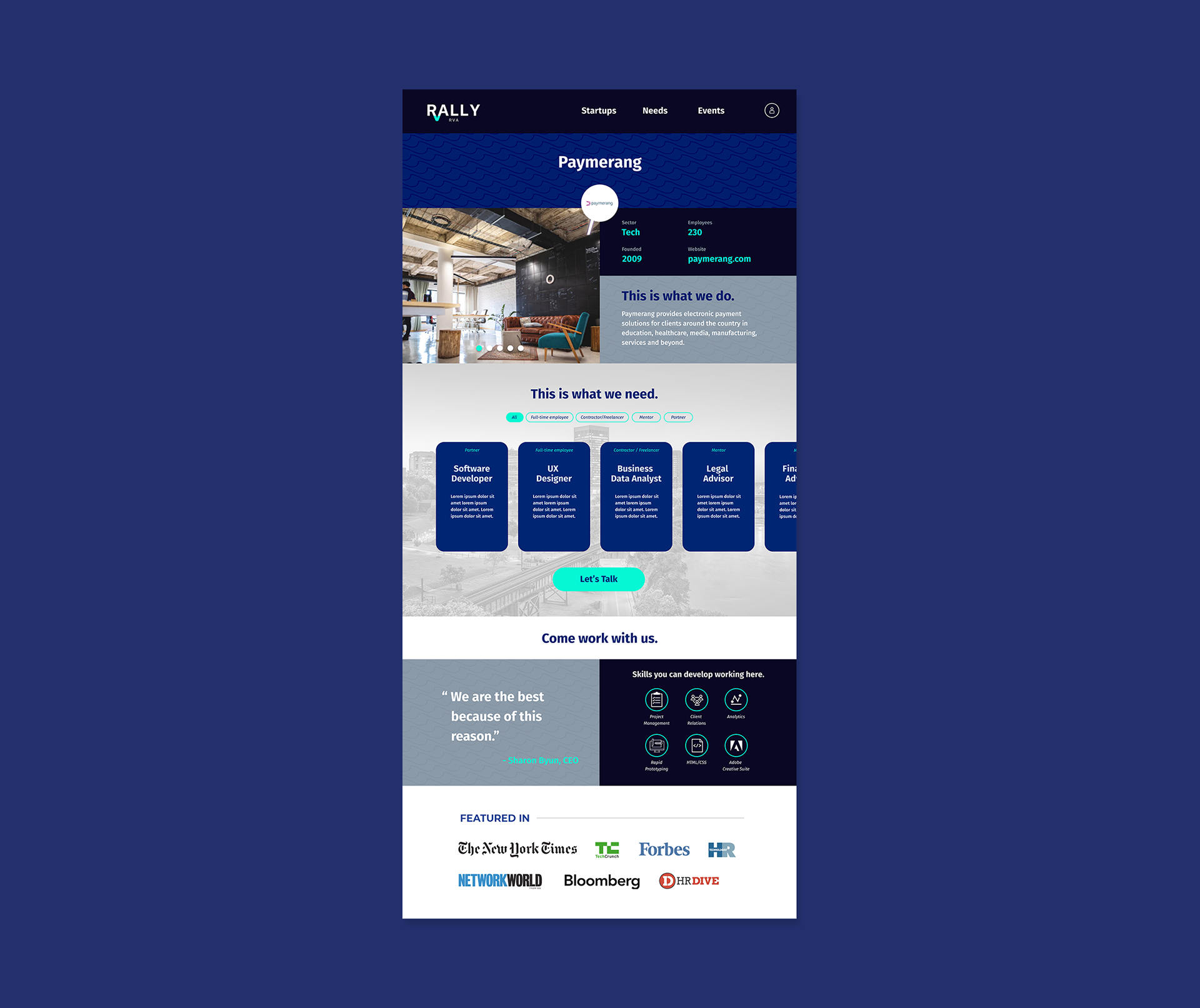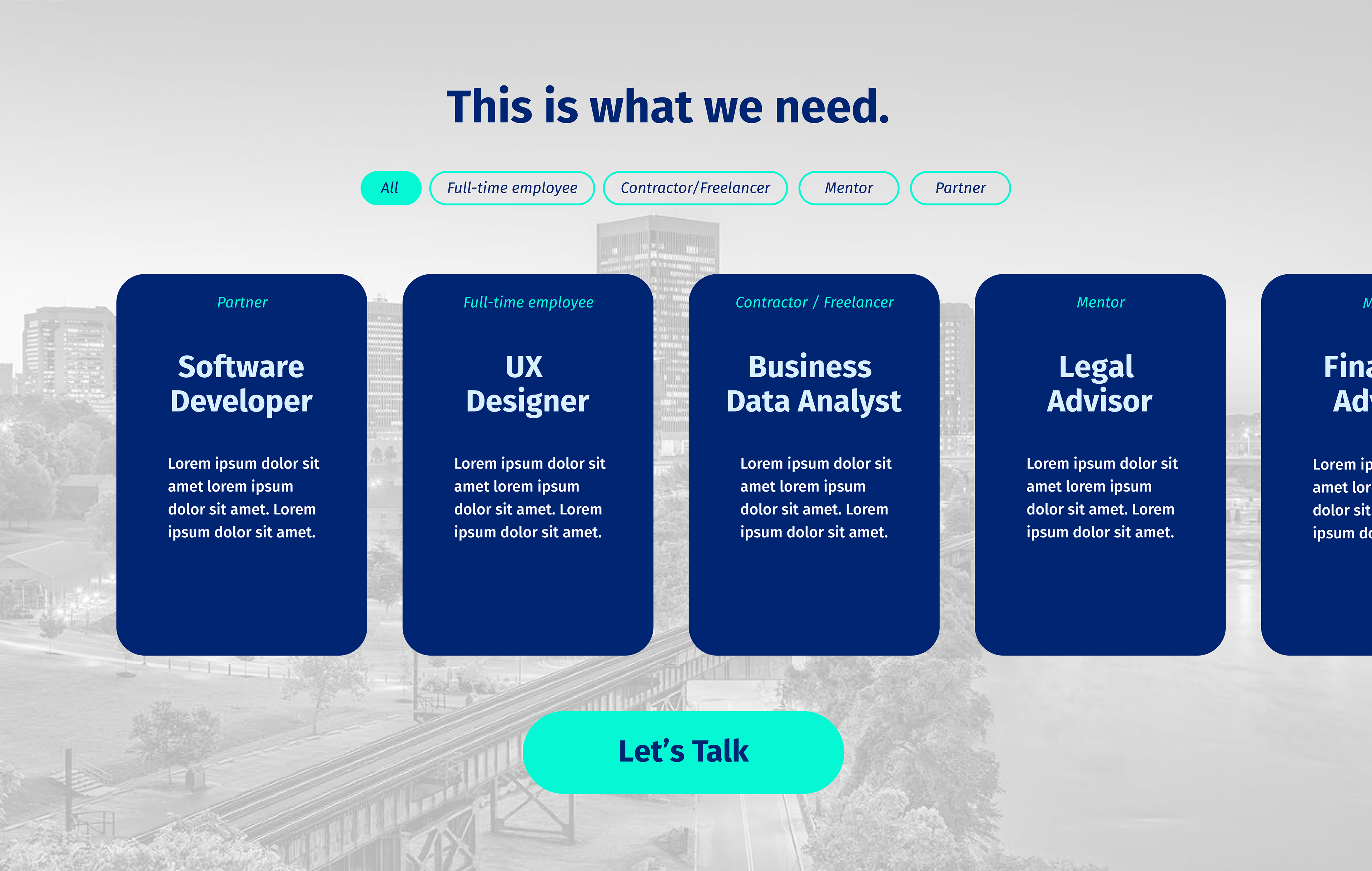 Instead of a job listing, Rally RVA platform introduces "needs" cards for talents to efficiently see what area they can help them with. Depends on the funding stage, startups might need mentors or partners, and these need cards reflect the broader needs of the founders.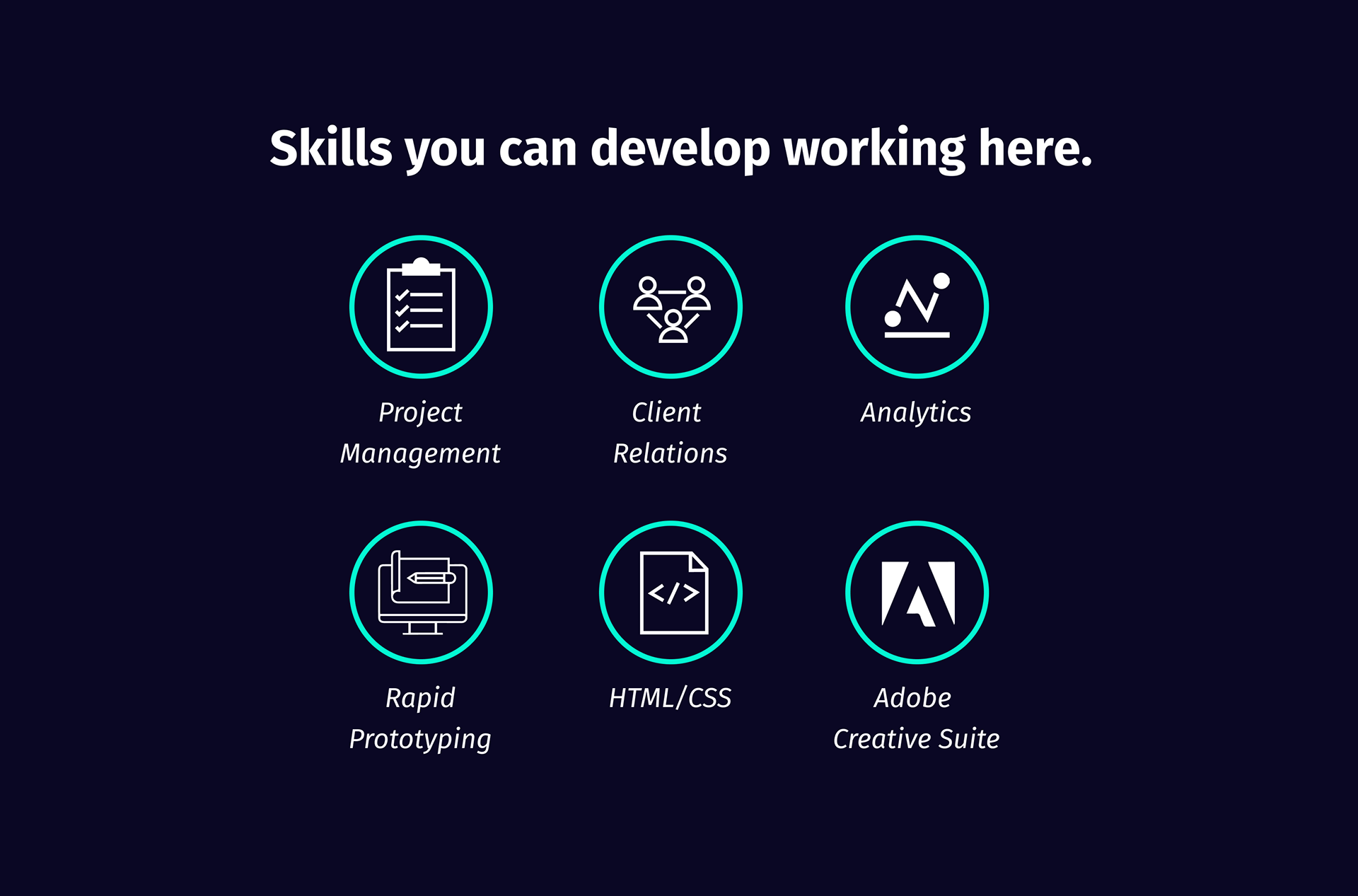 Instead of featuring traditional benefits like healthcare or 401K, the profile page introduces skills the talent can develop working for the startup. This is to give startups of any size the opportunity to showcase their company vision without being intimidated by competing with the larger corporations.

As the founders create profiles, the platform generates an index of them. Both talents and funders are able to see what kind of startups are in the area, and also can filter by category, needs, and size in order to get a faster access to the startups they are looking for.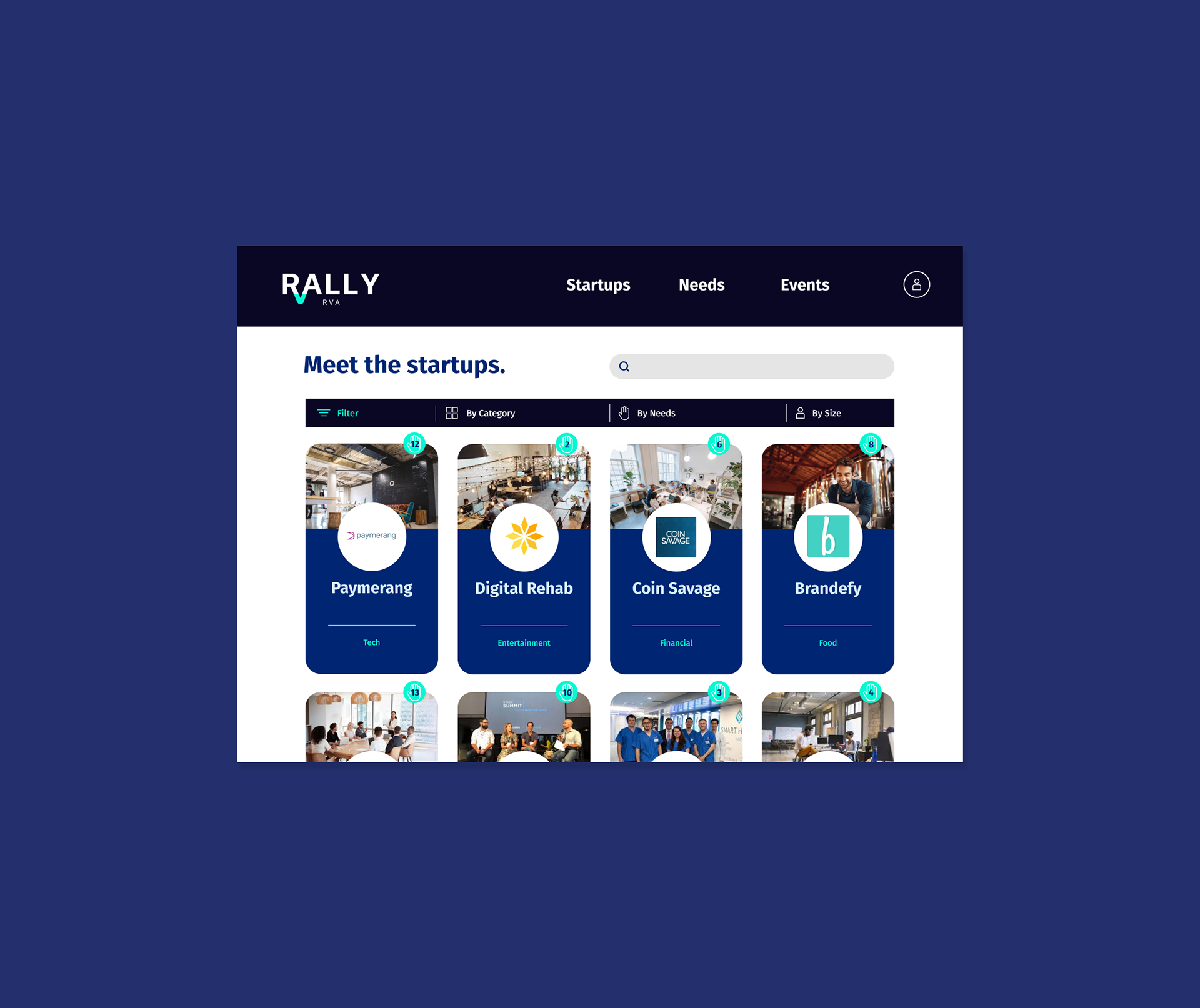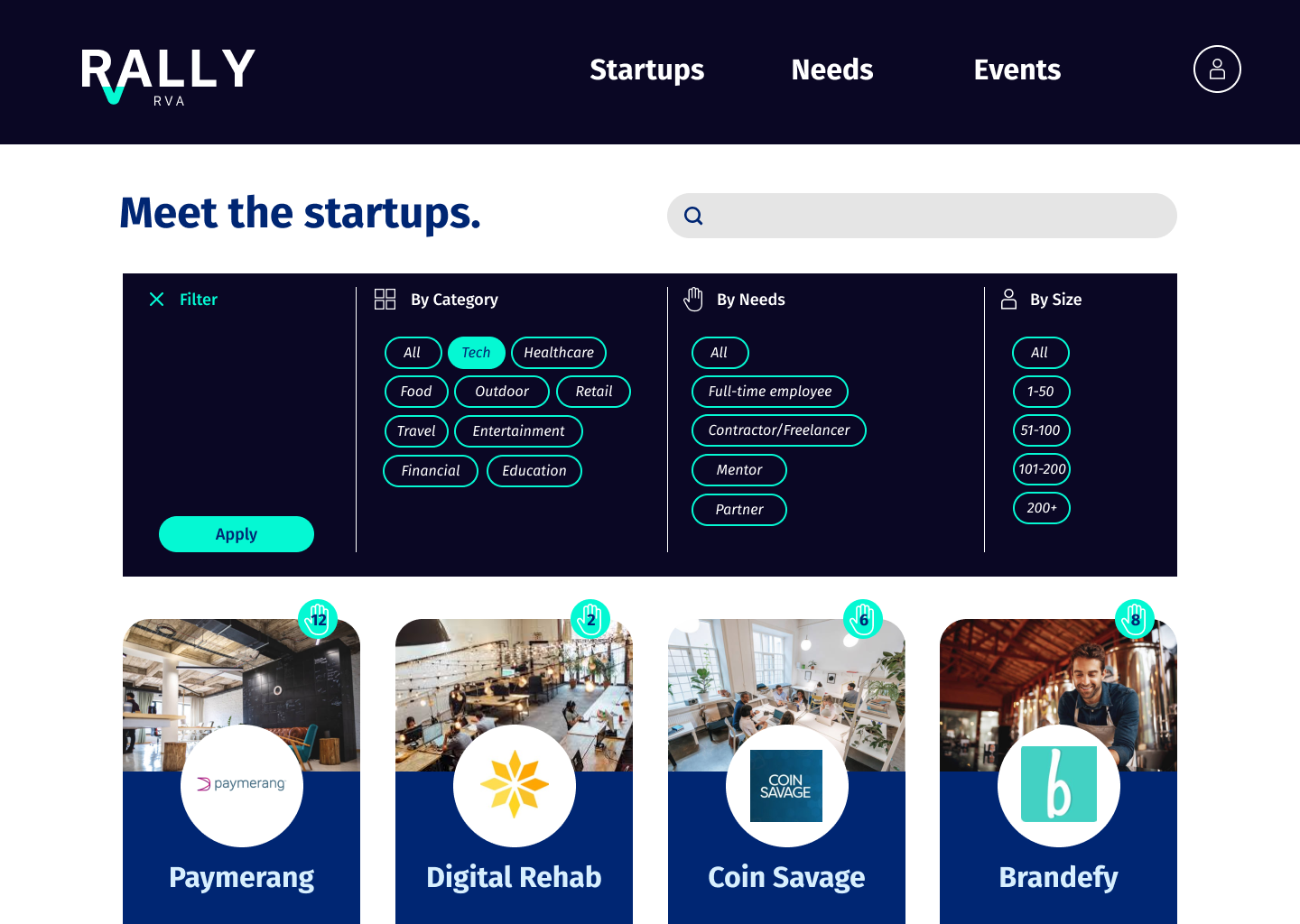 Creating a simple yet effective profile is crucial for the founders. The wizard feature helps them to pick and choose and to curate only the necessary information about their company.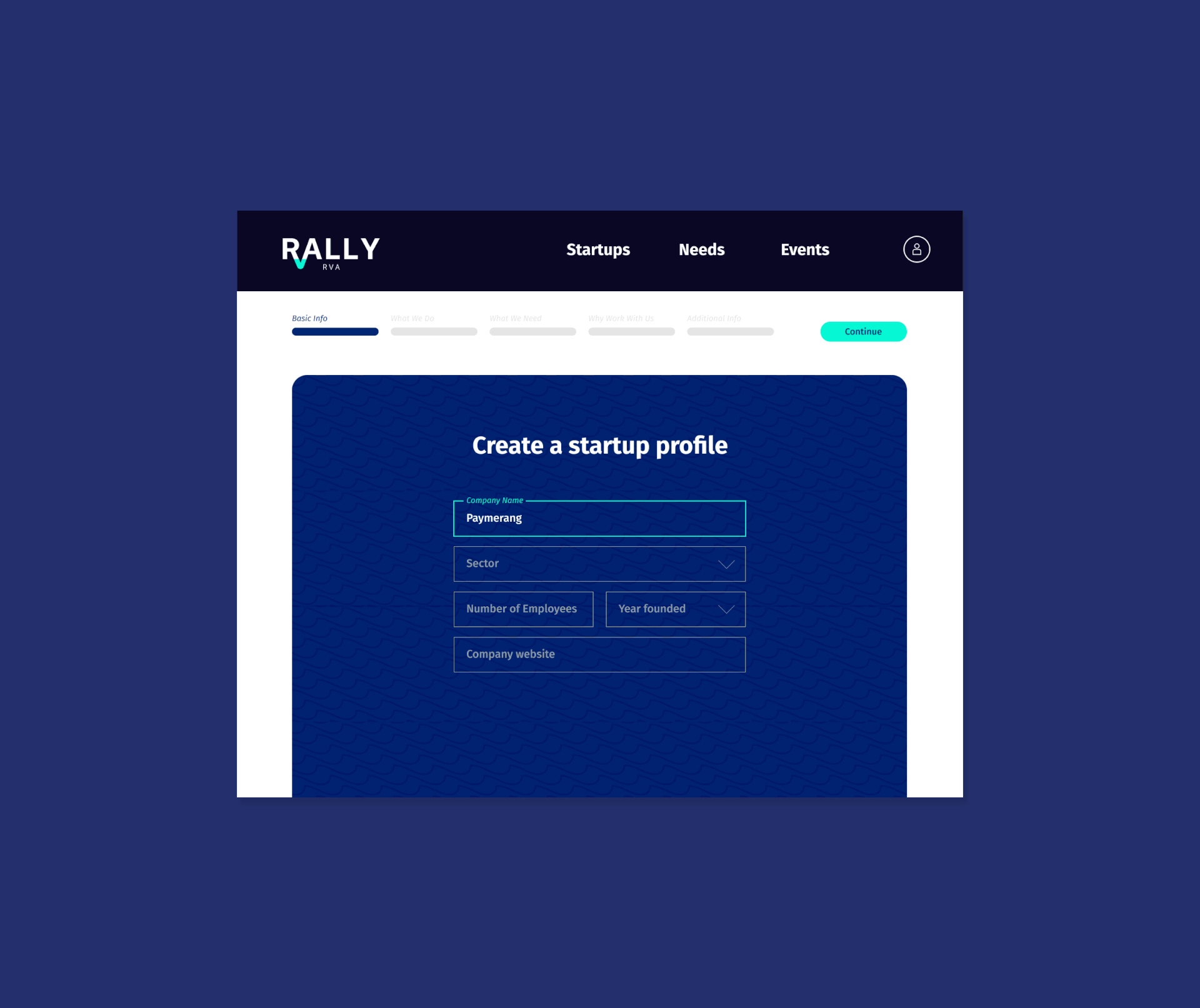 Instead of sending a resume and wait for a call, talents view the needs cards on a startup profile then send an e-business card to start a casual conversation with founders in the area.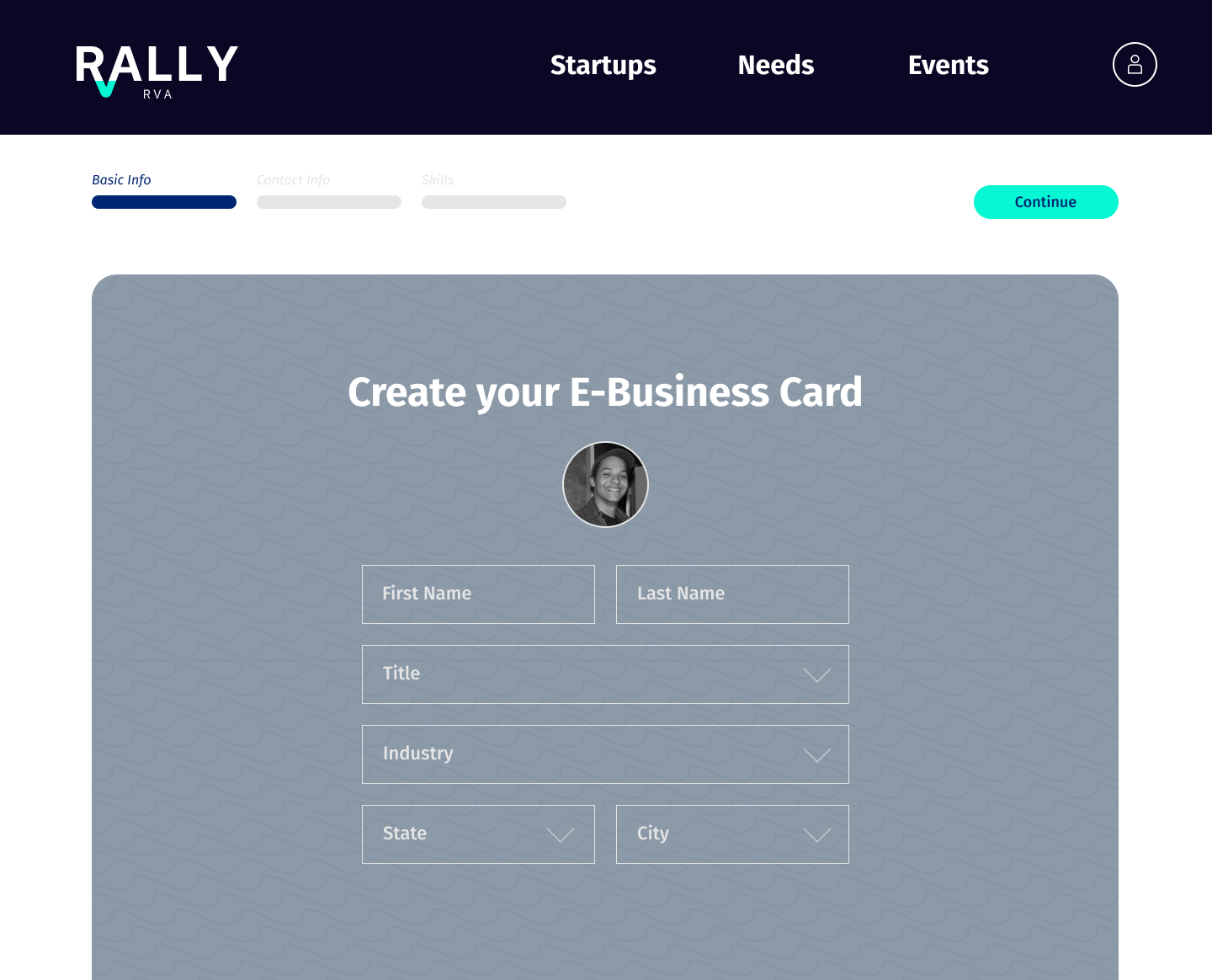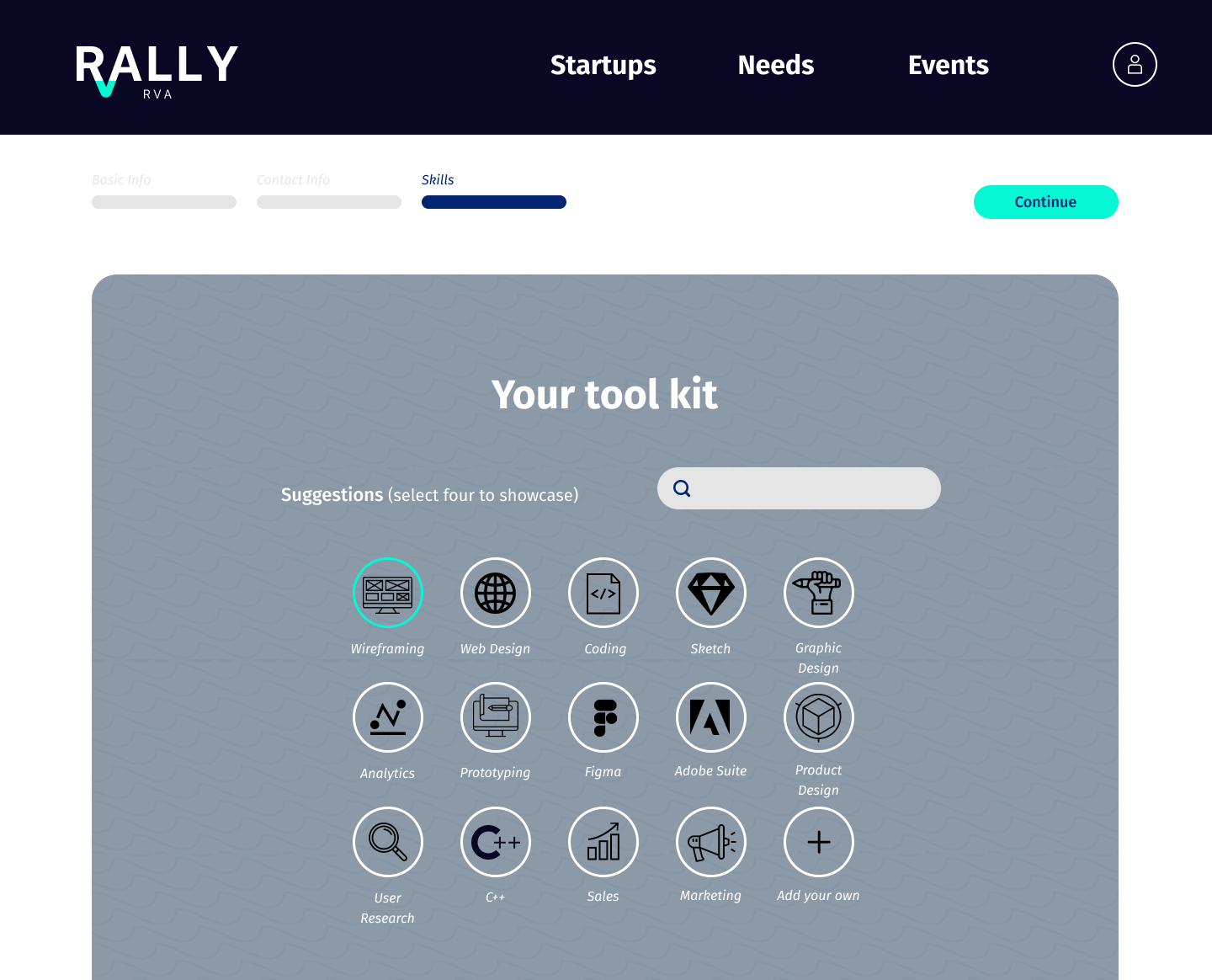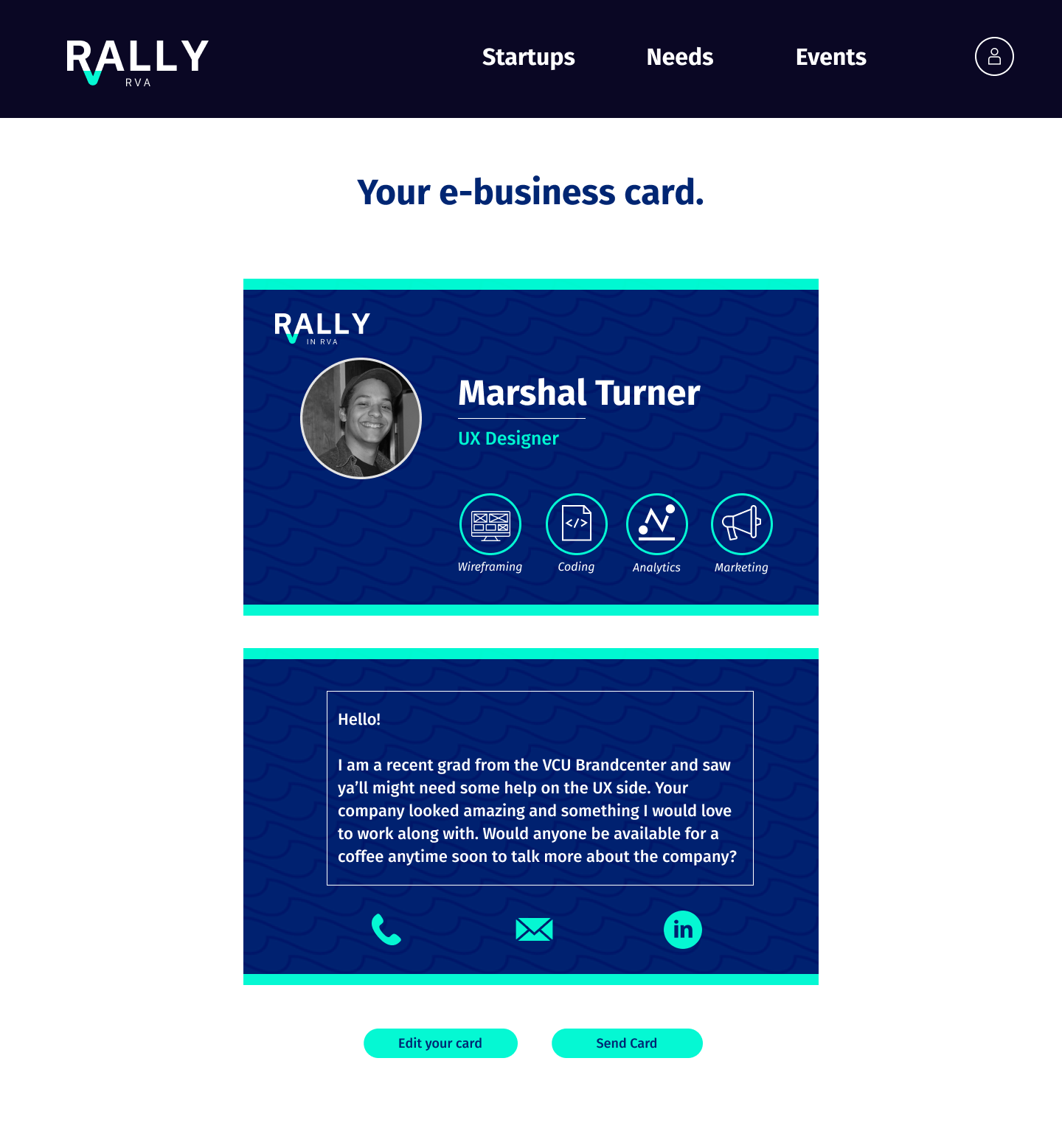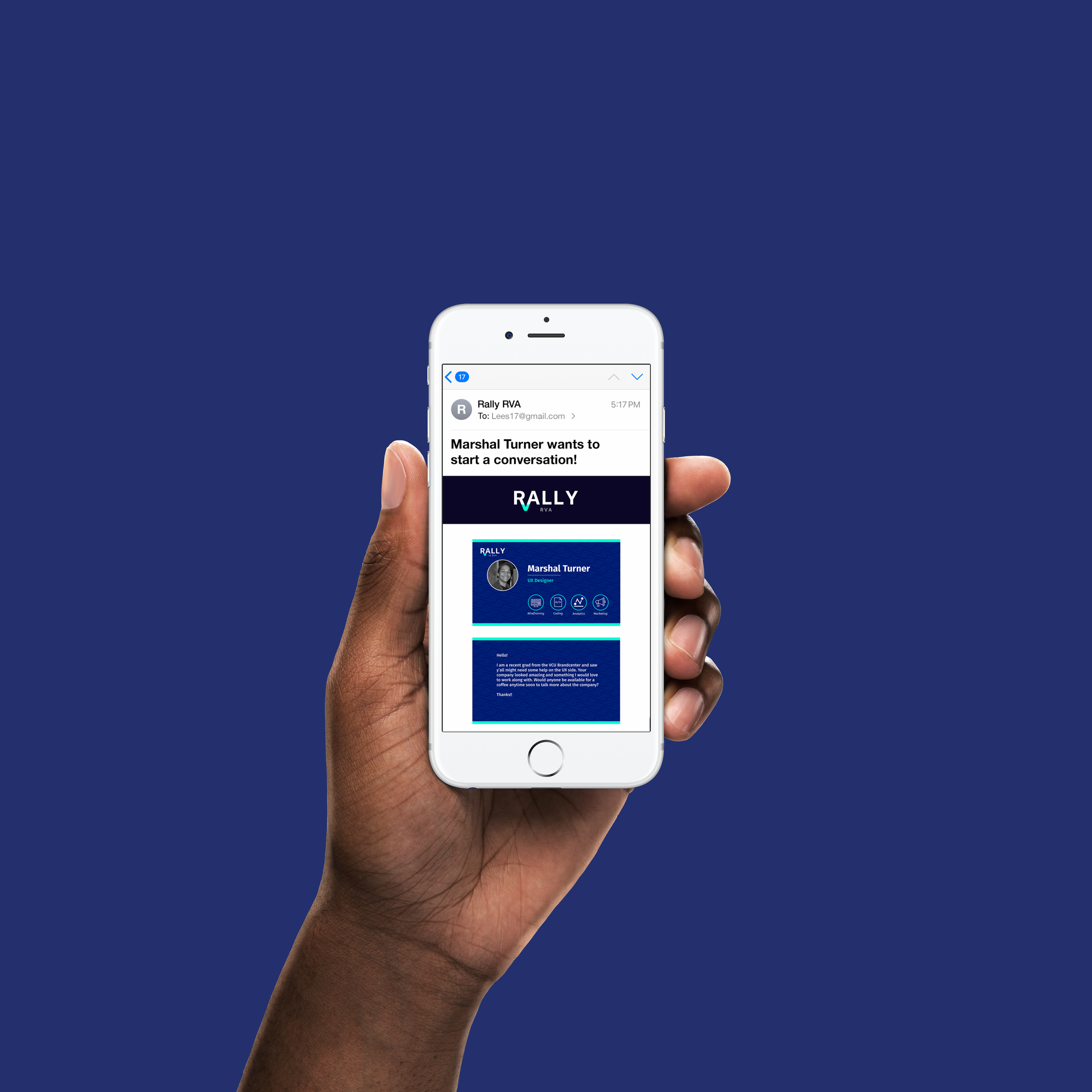 Brand awareness is the big part of Rally RVA's success, and we thought about physical deliverables that can help getting Rally RVA out in the startup community. Richmond, Virginia is known for its food and craft beer scene, and a lot of founders and talents already spend their time in local coffeeshop or brewery for either working or networking. What if we make coasters and distribute them locally in order to introduce Rally RVA brand non-intrusive way?
Also Rally RVA is powered by a local organization, Activation Capital. They do annual conference for startup community called DownRiver and UpRiver, and we thought a photo wall with step and repeat logos and t-shirts to distribute during the conference would be a good opportunity to introduce the brand as well.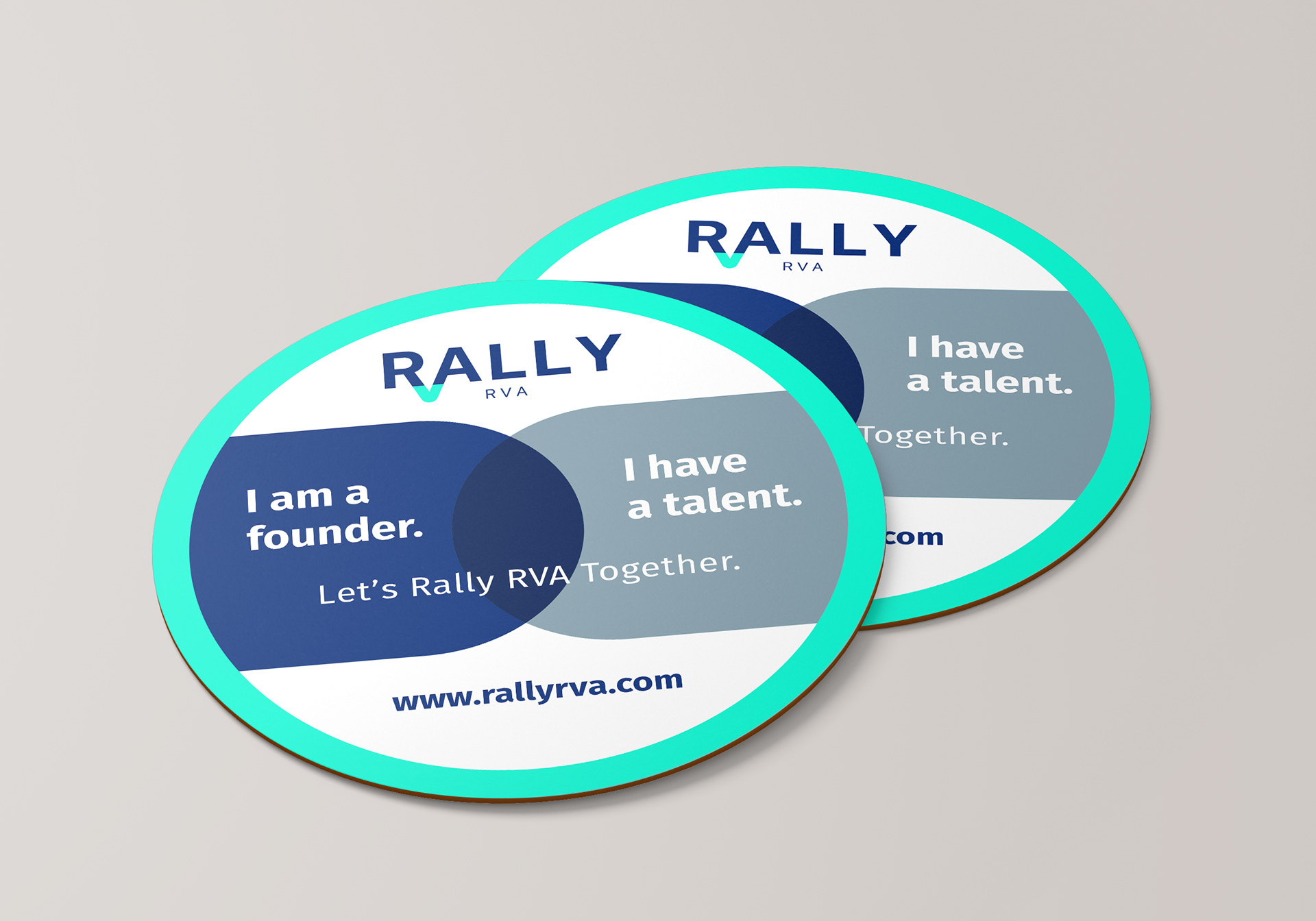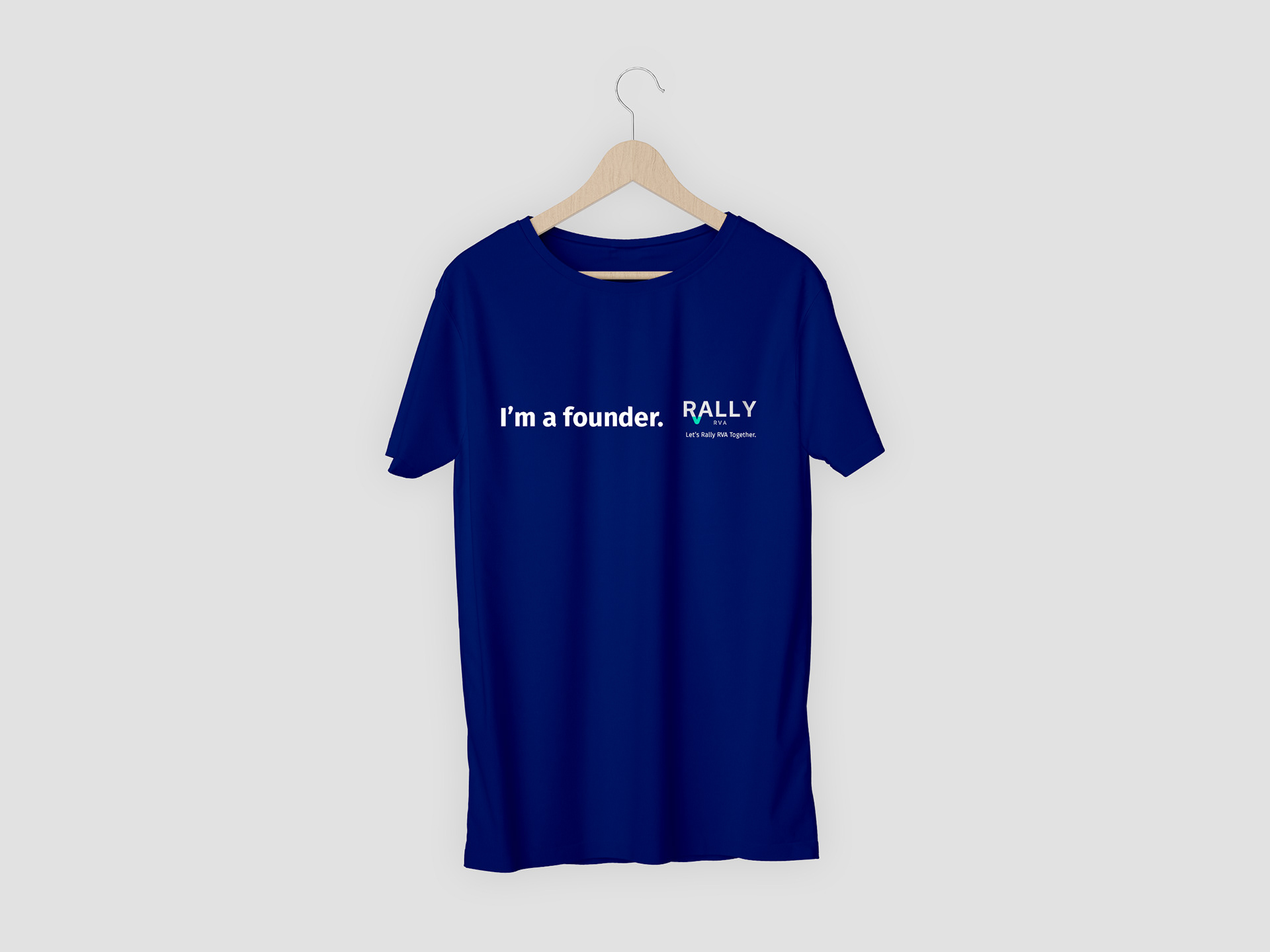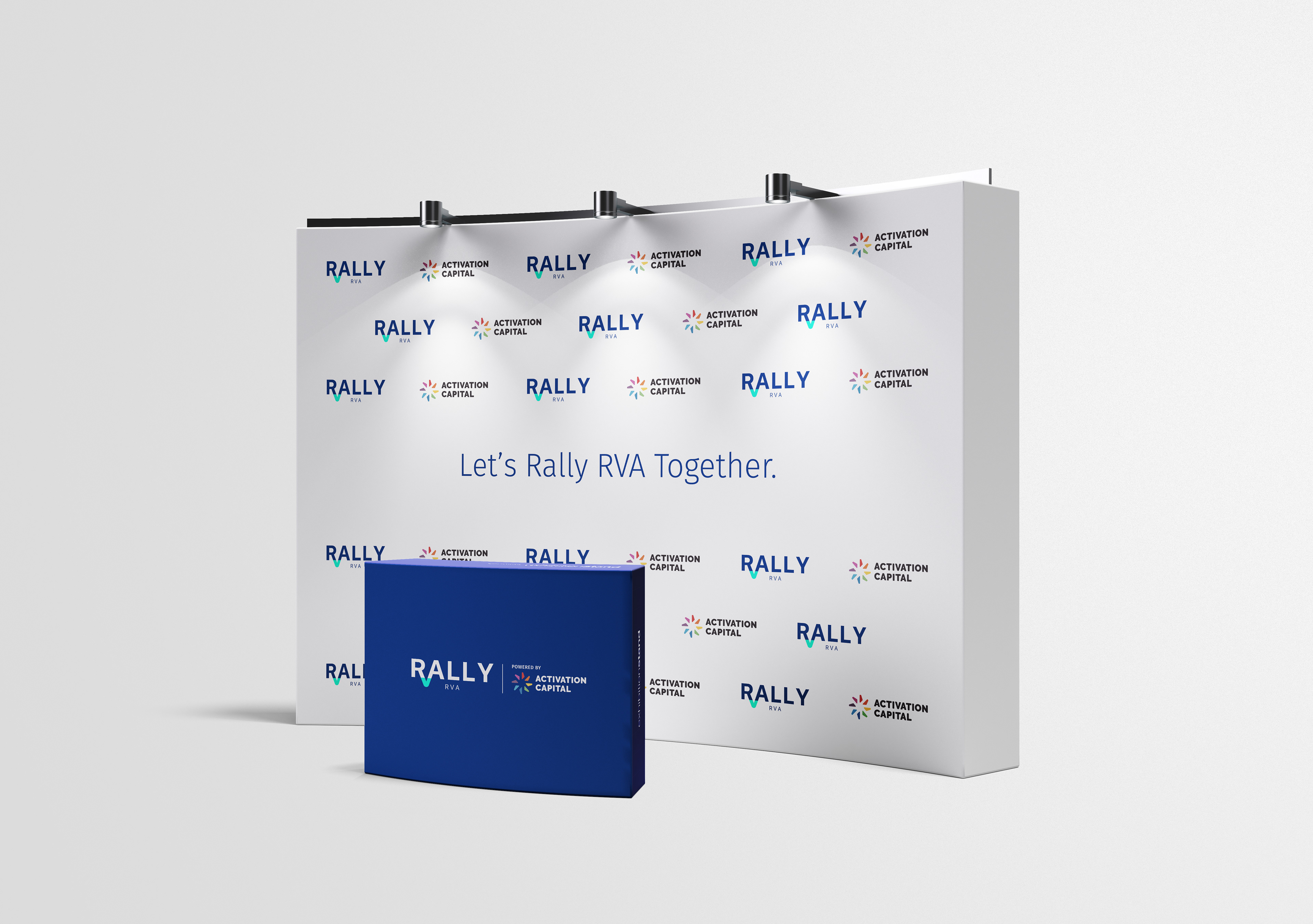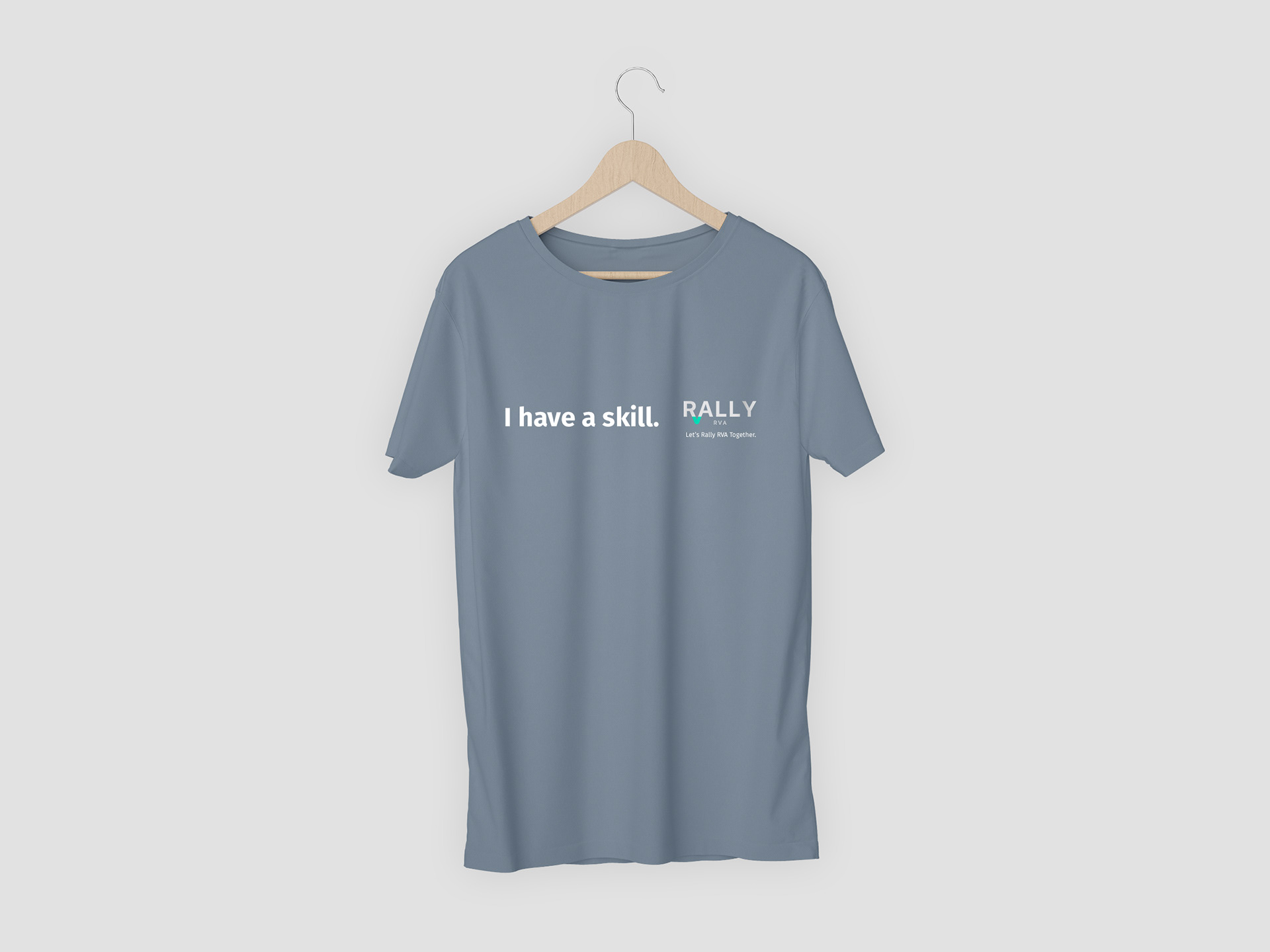 Rally RVA has the potential to be a brand that is uniquely inherent to RVA and become a holistic experience that the innovation community rallies around. We've used blue and teal as primary color because as blue gives corporate, reliable feel for business, teal balances it out by giving fresh and innovative feel of startups.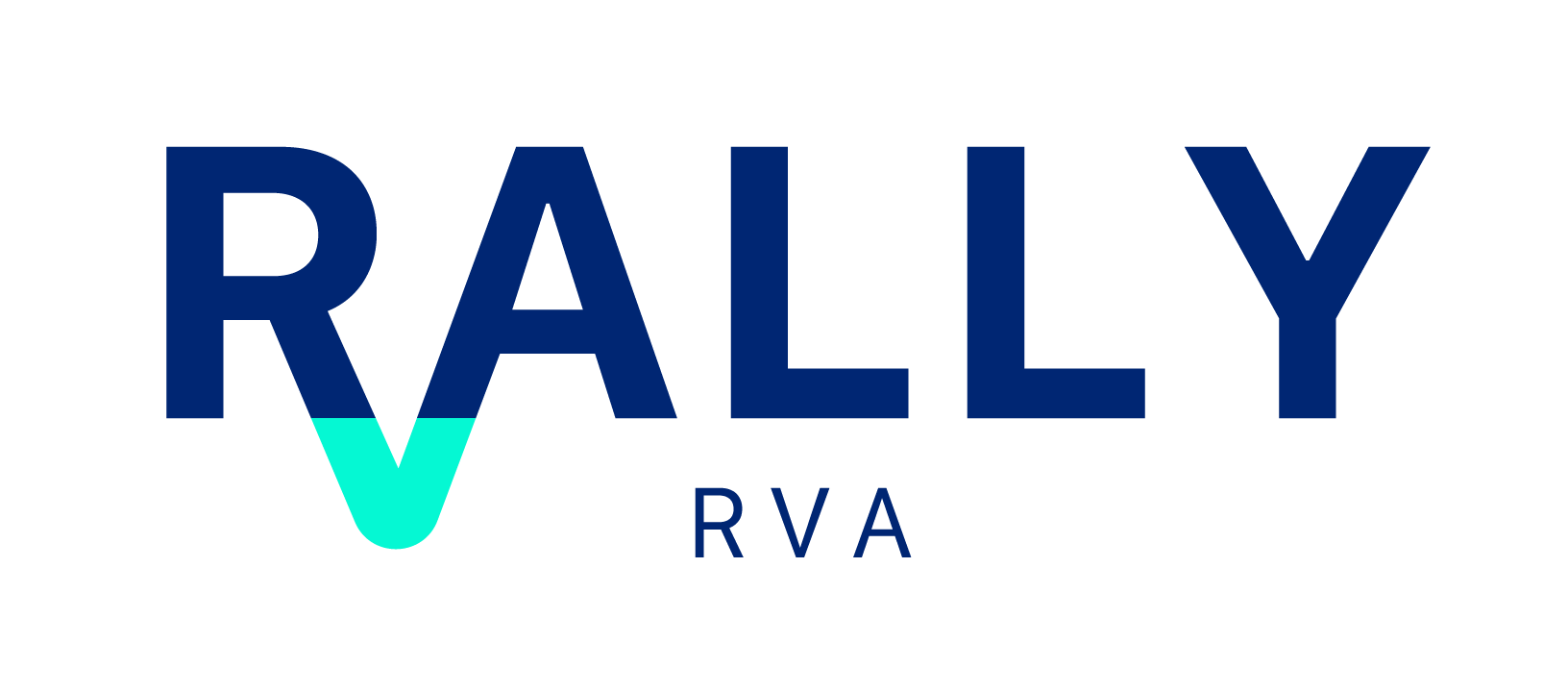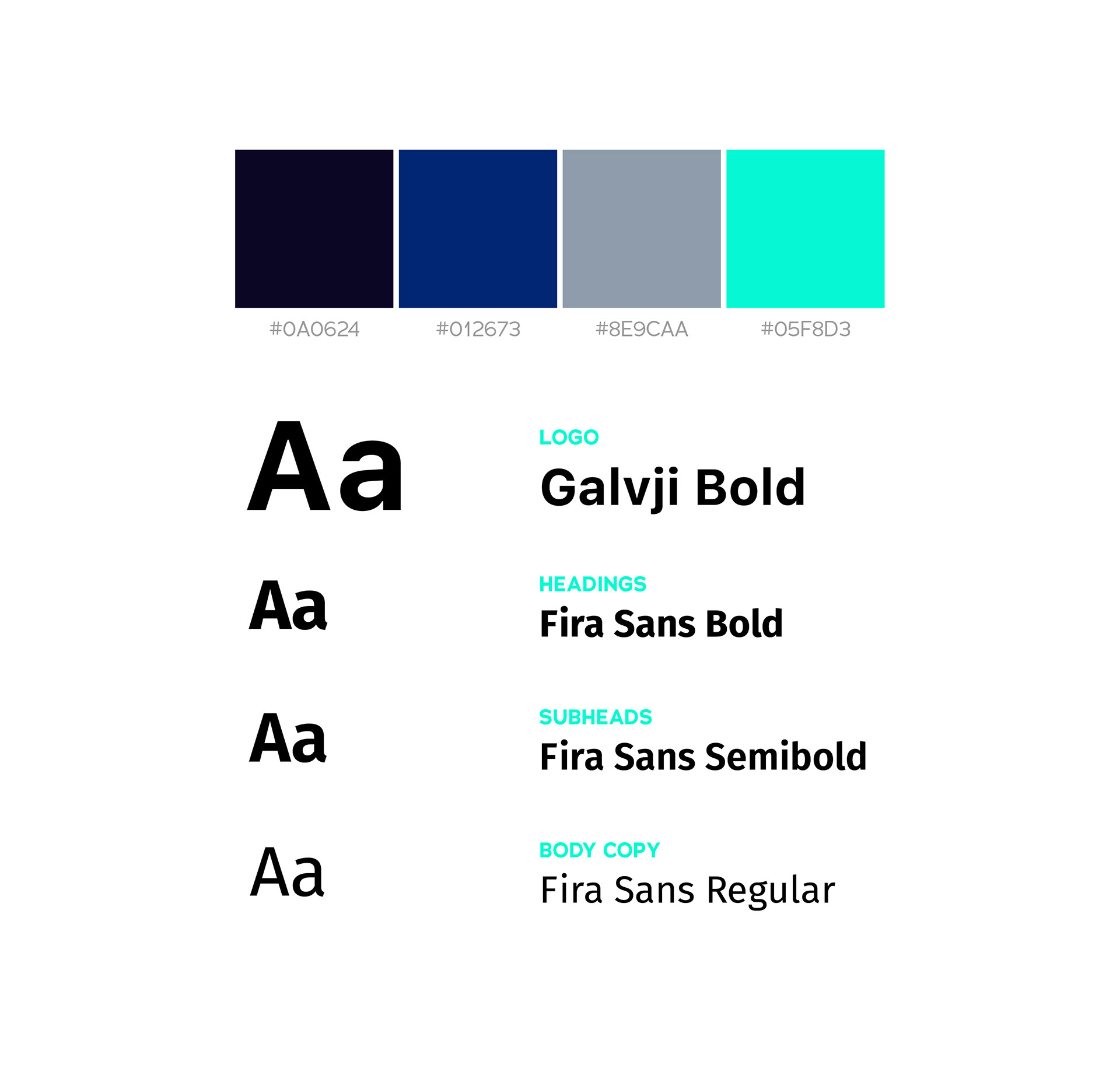 In the discovery phase, we have interviewed the startup players of Richmond region, including accelerators, founders, and talents to pick up their brain about what current startup ecosystem looks like, and what are the needs of the users. Also through reading articles about Richmond startup scene, and with competitive audit of other cities like Austin, Raleigh, we found a pattern and defined a problem. "
Richmond startup scene is lacking talent acquisition
."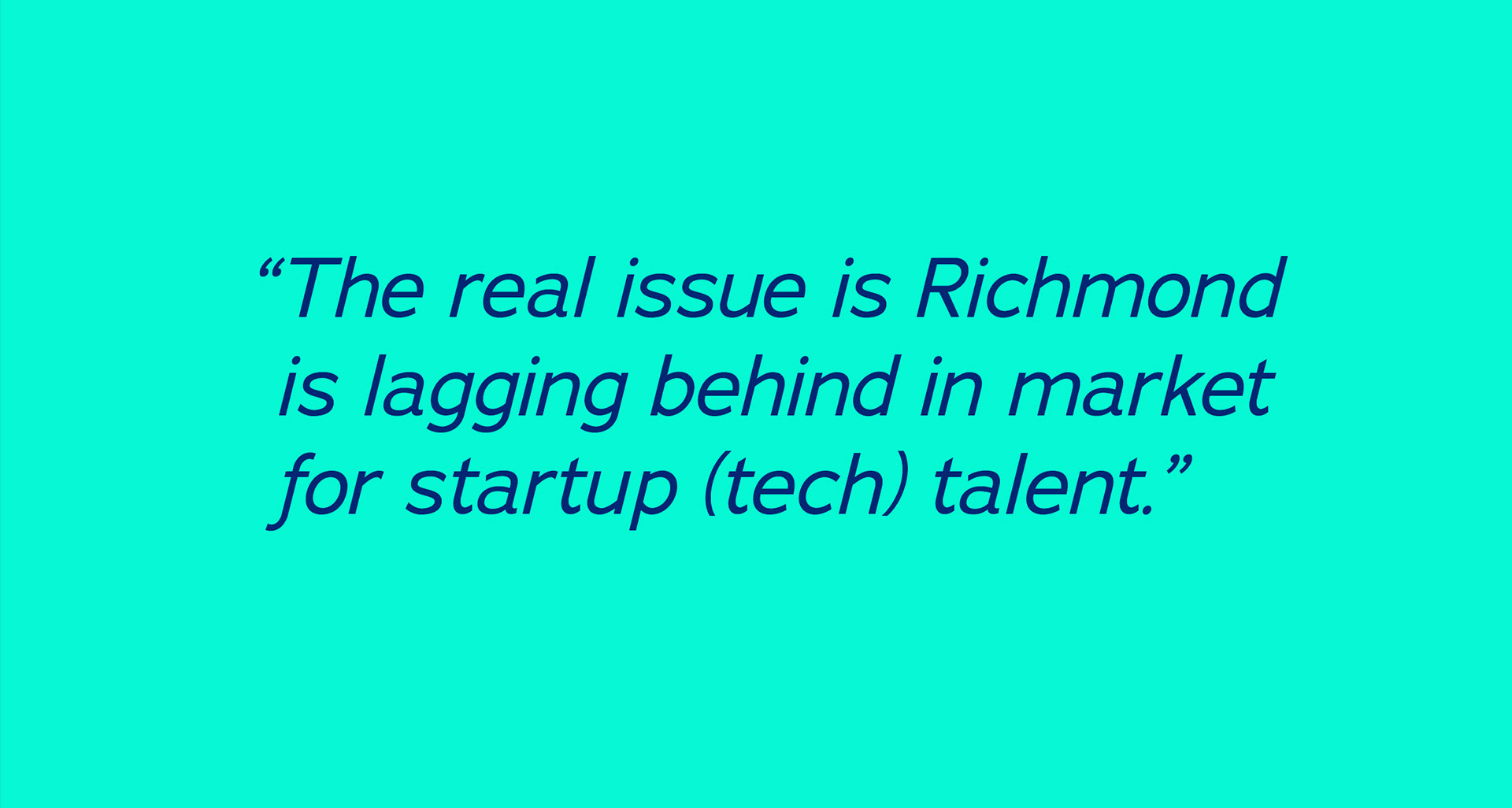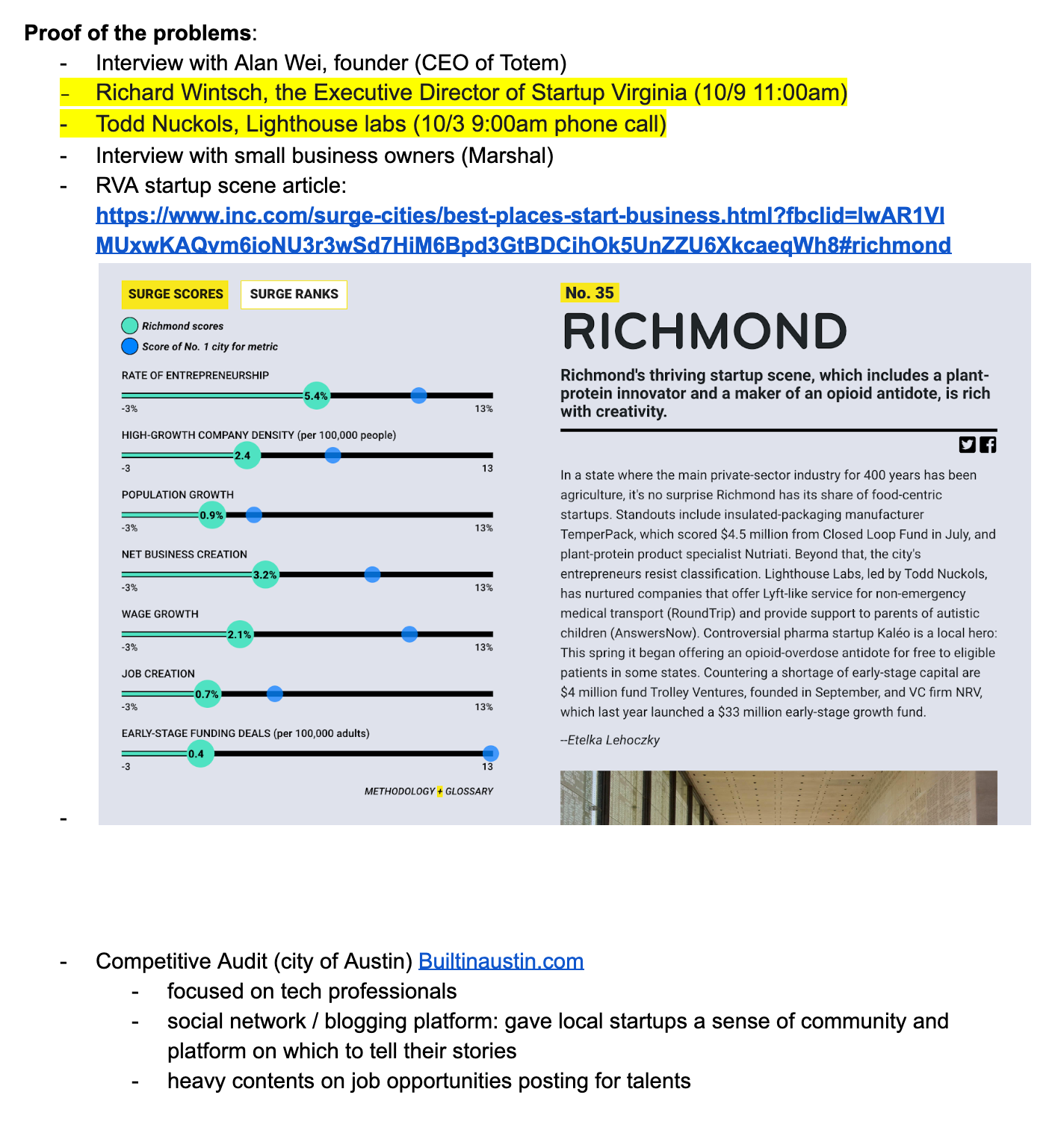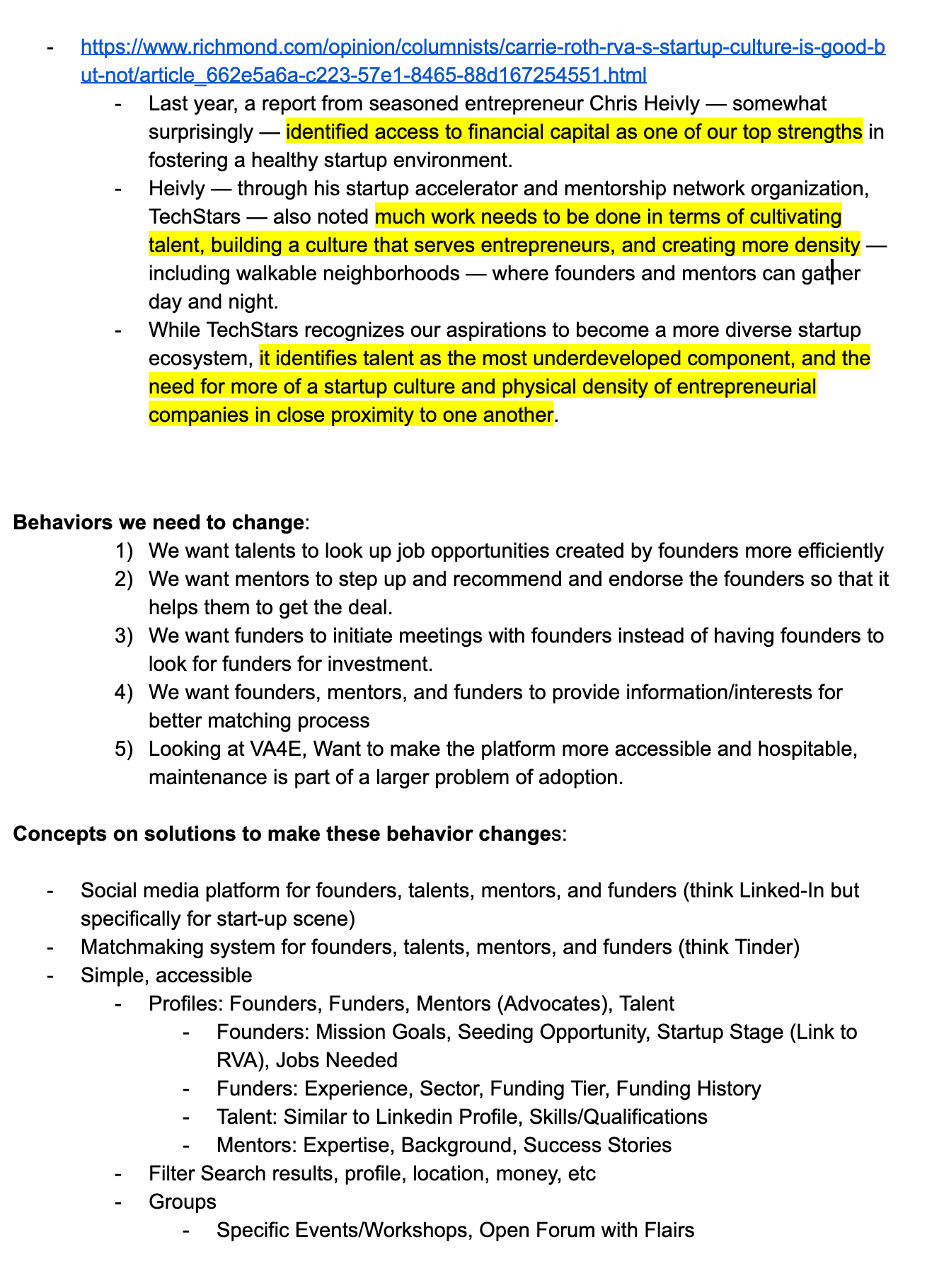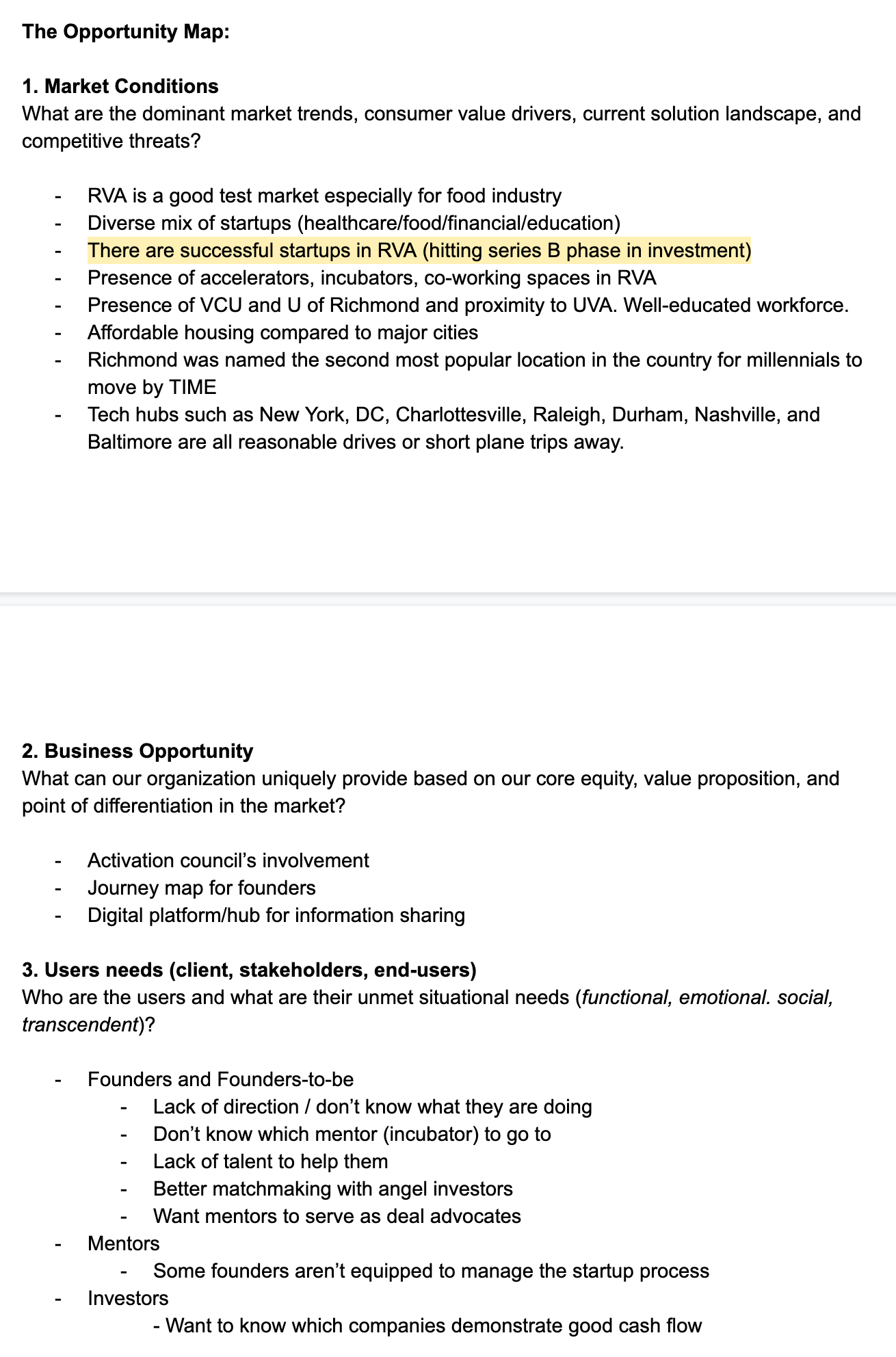 After we defined a problem, we sketched out a few feature ideas and rough user flows for those features. Then narrowed down to three flows we want to focus on, and started building a design system so that as a team what we build is cohesive.
We used
Figma
to collaborate and build a high-fidelity prototype for Rally RVA.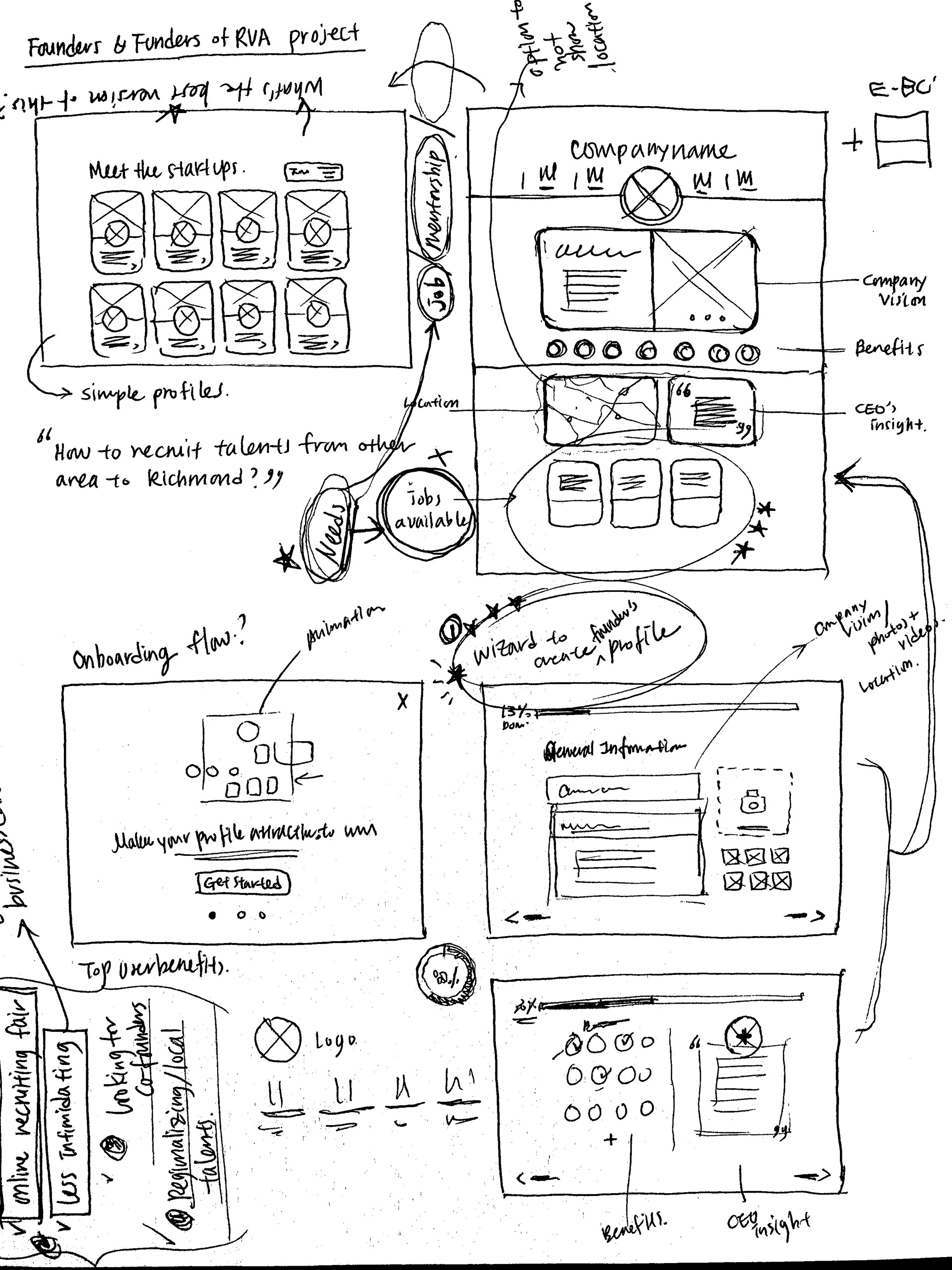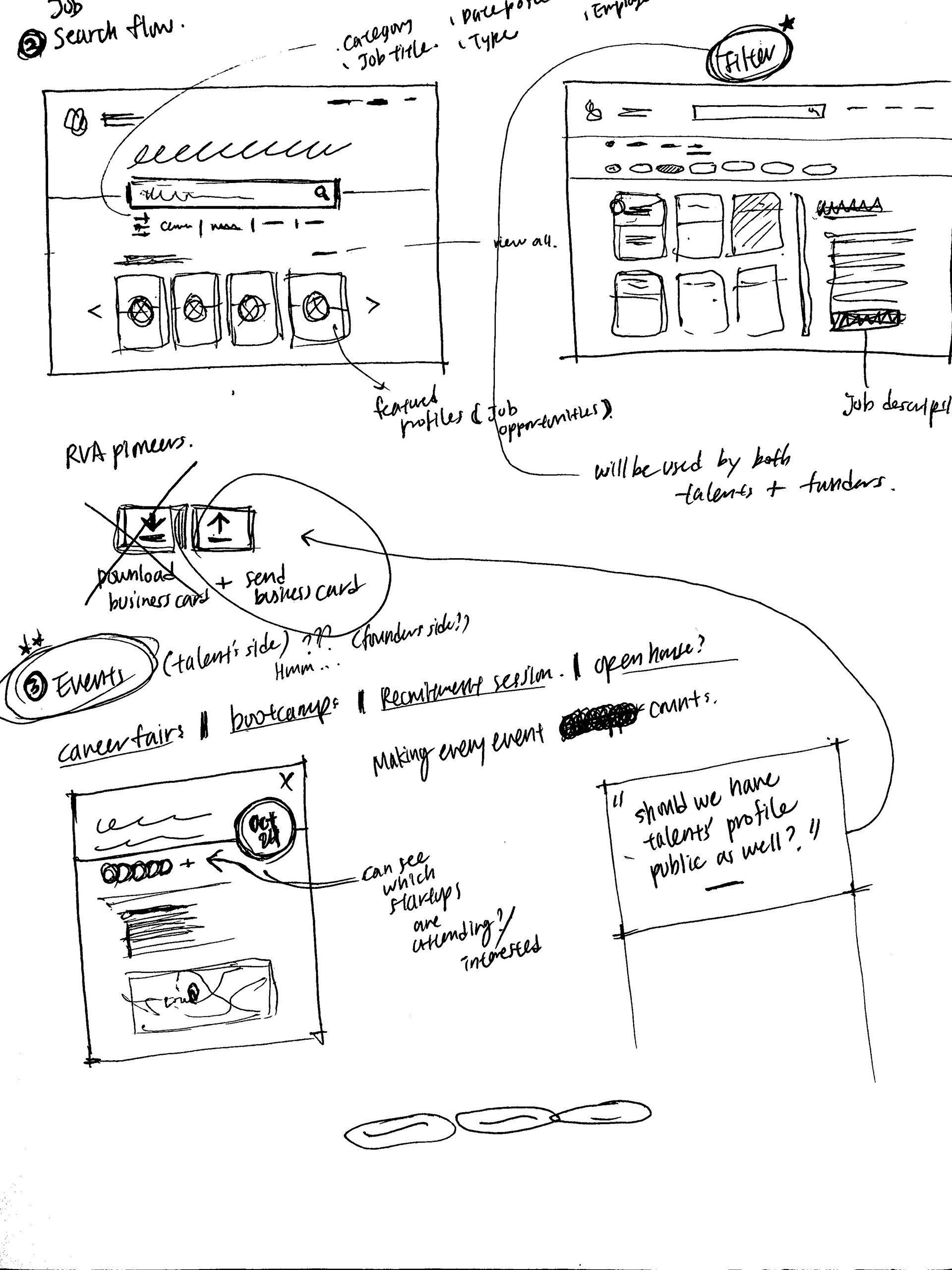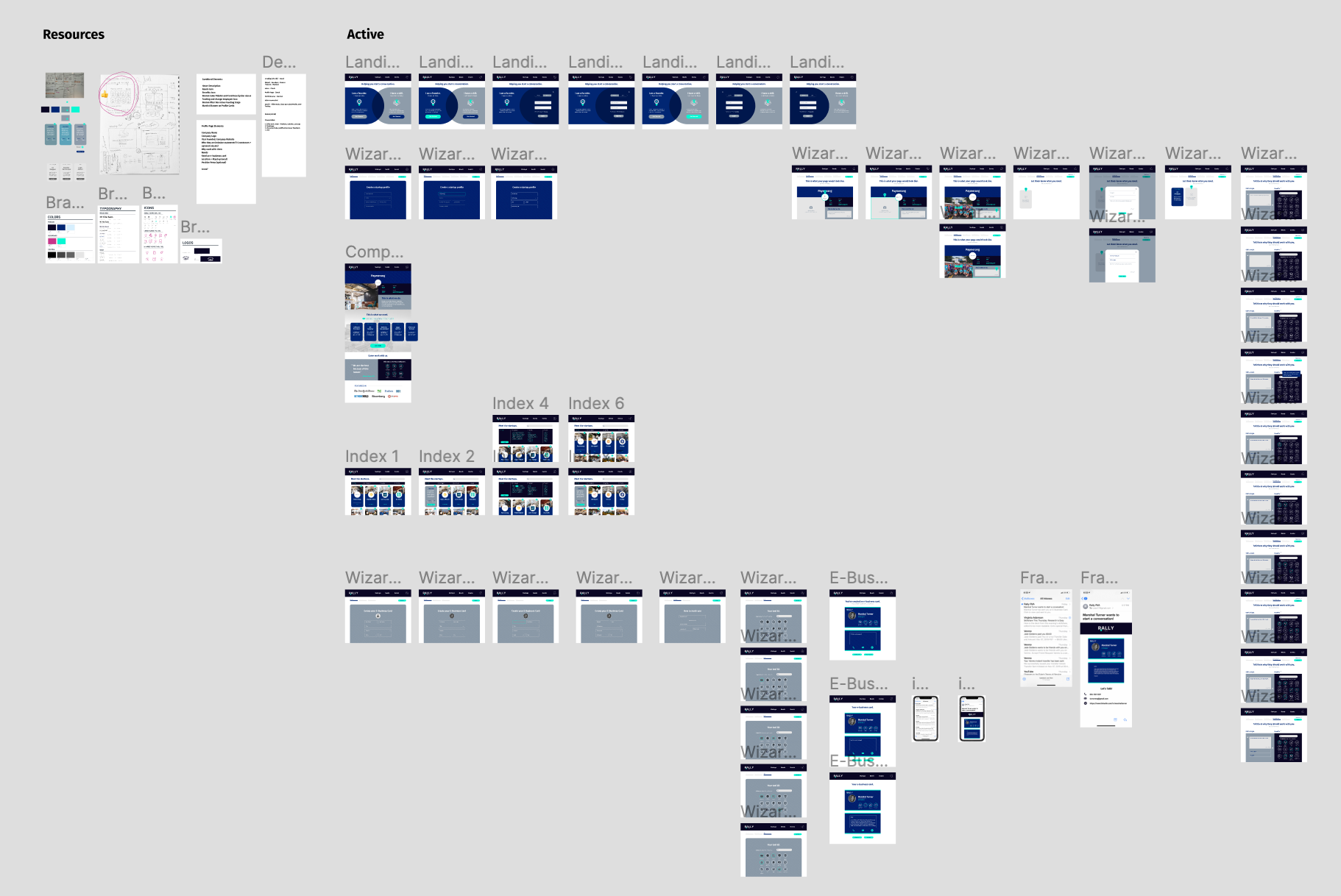 When we started researching the problems of the startup community in Richmond, we were overwhelmed by learning new business terms such as accelerator, incubator, and angel investors, and also by realizing we are tackling such a big problem in scale.
After 8 weeks, I learned so much about the entrepreneurship world and the beauty of honing into one unique problem. Even though the startup communities tend to only focus on big tech companies, we intentionally tried to design a platform so inclusive that every size and kinds of founders — from a main street to one with series-C funding — could be comfortable talking about their business. I learned that small design decision can make a big impact, and in my career I want to empower people by design.
This project started as a school assignment, but the stakeholder was impressed by our presentation and decided to continue developing this digital platform so that it could be actually used by the startup community in Richmond region. Currently our team is working on a more extensive design system for Rally RVA.